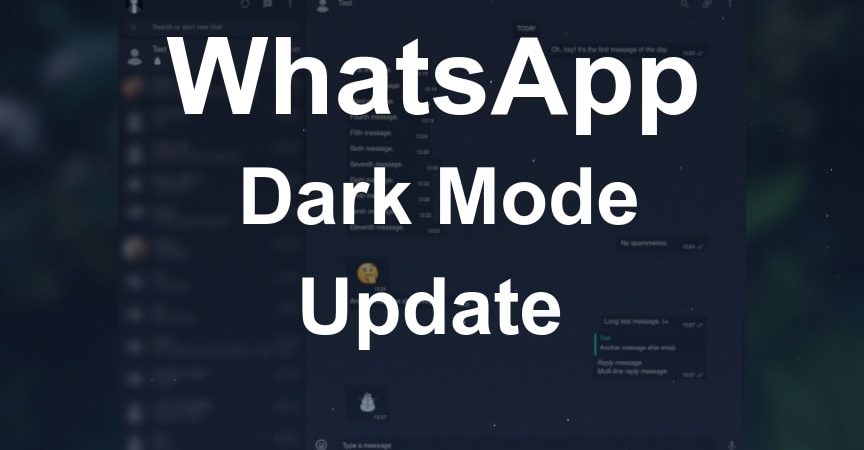 Power Saving Dark Mode in WhatsApp
Its been a long time we have been listening that WhatsApp is working on the dark mode or dark theme. We have good news for you, WhatsApp has begun rolling out the dark theme or dark mode on beta testing applications for Android devices.

According to a blog that tracks WhatsApp development (WABetaInfo) recent beta update showed a dark splash screen (welcome screen ). Whatsapp still hasn't rolled out dark theme officially for android devices it has release 2.19.311 update for beta testers of its Android app.
According to WABetaInfo this update also brings few hidden details other than dark theme or dark mode. As of it is in beta testing mode there will be so many changes and updating till it gets published for production.

Right now if you install WhatsApp beta version you will not be able to access new options. Because WhatsApp has included assets and code for the dark theme that still not active.
Whatapp is still experimenting with different designs and options like chat bubbles and buttons. We will keep you updated whenever the beta update is available for all users.
Who is WABetaInfo?
WABetaInfo analyses and publishes alpha and beta versions of software to get throughout knowledge of upcoming features. They also have provided the possible look of dark mode for android devices. WABetaInfo recently tweeted about their finding of the dark mode in WhatsApp saying:
"I am happy to exclusively give the good news: WhatsApp is finally working on a Dark Mode! It is a dream.
"There are many important secret references in recent updates!
"Be patient to see it out, hoping it will be FULL OLED friendly for Android phones, iPhone X and newer!"
Whatsapp still has not officially announced anything regarding the dark theme or dark mode. Where almost all famous social media applications (Facebook, Twitter, and Instagram) applied dark mode to their application to improve the user's experience.
For now, you can select the dark solid color as WhatsApp wallpaper to get the dark look. Until updates were rolled out and we get dark theme options on the official application.